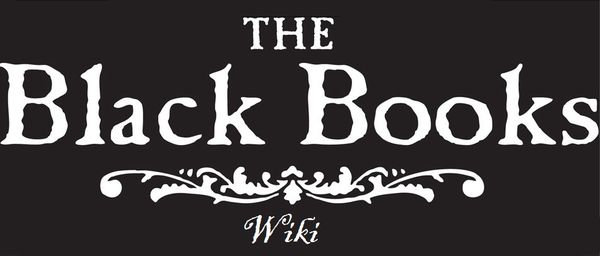 Black Books Wiki is a comprehensive guide for everything related to the BAFTA award-wining sitcom, Black Books. Feel free to create new articles, edit existing pages or upload your own images.
Black Books was a British BAFTA award-winning sitcom produced for Channel 4 starring Dylan Moran, Bill Bailey and Tamsin Greig. It follows the lives of three friends, Bernard Black (Moran), the rude and obnoxious owner of the bookshop Black Books, Manny Bianco (Bailey), Bernard's long-suffering assistant, and Fran Katzenjammer (Greig), the owner of the shop nextdoor. The show was created and written by Dylan Moran, as well as Graham Linehan, Andy Riley, Kevin Cecil and Arthur Matthews, who co-wrote some episodes. The show's producers include Karen Beever, William Burdett-Coutts, Nira Park and Julian Meers.
Featured Article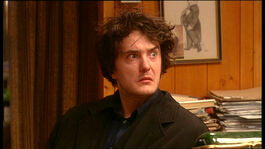 Bernard Ludwig Black
, the owner of the eponymous bookshop
Black Books
, is a heavy alcoholic and smoker and has been known to be rude and obnoxious to the customers in his shop. The only people Bernard can be said to share a friendship with are
Manny Bianco
, his assistant and flat mate, and
Fran Katzenjammer
, his best friend and neighbour.
(more...)
Featured Episode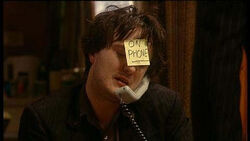 Cooking the Books
is the first episode of the first series, and hence is the first ever episode, of the British sitcom,
Black Books
. It introduces the main characters in the show and sets a backbone for future episodes.
(more...)
Selected Image
Black Books
is a second-hand bookshop located at 13
Little Bevan Street
,
Bloomsbury
,
London
. It sells a variety of books to the public, and also buys books from customers, which is then used as stock. The shop is owned and run by
Bernard Black
, with the help of his assistant,
Manny Bianco
. The building in which Black Books is situated is owned by
Mr. Benson
, a cat who was left the building after
Ms. Hanley
, his presumed owner, died. Bernard has rented this building and now uses it as the shop and living quatres.
(more...)
Poll
What is your favourite Black Books episode?
Community content is available under
CC-BY-SA
unless otherwise noted.